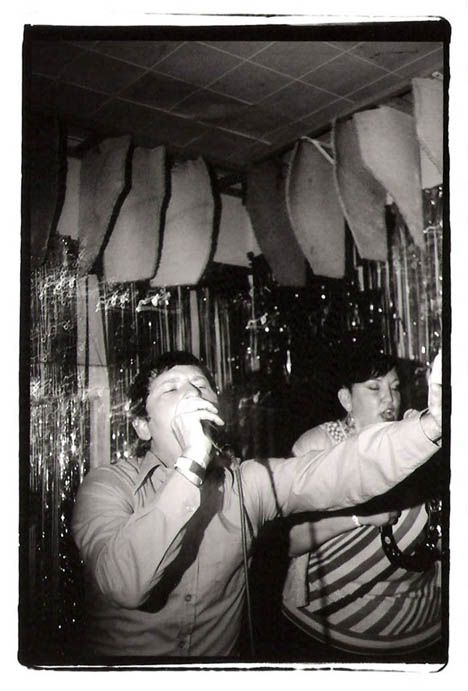 Happy Halloween everybody! It's that wonderful time of year when for about 6 or 7 days it seems completely appropriate to be buying your produce at Safeway next to Buzz Lightyear or squeezing onto a crowded Night Owl bus with a giant Koala bear, a sexy zombie bride, and a half assed Don Draper.
Costumes, costumes, costumes. So fun to wear, so telling of our subconscious.
My favorite costume ever though is of the musical variety. Cover Bands! Halloween provides musicians with a fantastic opportunity to pretend , even if for just one night, that they really are their musical heroes. Instead of just copping a Dylanesque streak for a night, you can saddle up and be Zimmerman for a whole 24 hours and get away with it!
Phish used to cover whole albums during their Halloween sets. Deer Tick likes to assume the identity of Deervana and play deep cuts from Cobain. I would probably want to do an "Enchantment Under The Sea" style dance set and sing "Earth Angel" and "Under The Boardwalk" all night. But this past week, while the revving engines of Old Hallows Eve were thundering across the Bay, one particular musical cover costume outshined them all. Bottom of the Hill, that beloved fortress of punk and beer, hosted their 20th anniversary with a free show and invited Total B.S.(voted Oakland's premier Bob Seger cover band two years in a row) to their stage.
If you've never had the pleasure of seeing Total B.S. I can only equate it to that awkward moment at your Aunt or Uncle's wedding when you were about 15 and got really tipsy and danced so furiously you spilled your champagne and in a moment of anxiety realized you might have caused a scene but when you looked up you saw that your entire extended family was drunk and dancing too, equally oblivious to "proper" codes of conduct. You'd all been bewitched by the bad ass wedding band storming through a riotous rendition of "Old Time Rock n Roll".
That's kind of what it's like at their show. Total B.S. is an eight piece band, including two backup singers with serious pipes. The guitarist, keyboardist, saxophone player stoke a pretty serious flame and the rhythm section manages to remind you how at the end of the day, Bob Seger just wanted to make soul music. The band is led by the small in stature, big on laughter personality that is Jason Morgan. Using his lower center of gravity to his advantage (and a repertoire of onstage antics that owes as much to the Rev. James Brown as the Silver Bullet Band front man) he is able to strut, snarl, and sing his way into the hearts and minds of every damn person in the audience.
Total B.S.'s set list was representative of the wide range of Seger fan's taste out there. Some people want the old school hits; the gambling songs, the old Motor City/Memphis fusion sound. Others want the polish, the radio sound of Against The Wind and Main Street. I'll take whatever I can get and Total B.S. always gives it their all. While some audience members seemed sheepish at the start (not knowing exactly how far into their cheek their tongue should be buried) pretty much everyone was screaming and twisting the night away by the time Katmandu was played. And I had never seen so much sensual, reminiscent swaying in my life as when the whole Bottom of the Hill crowd thought about their old make out days while Morgan crooned "Night Moves" to us. Autumn is closing in indeed.
Perhaps the sweetest part of this particular Halloween concert, the most noble highlight of Total B.S.'s musical homage, is the perspective that the big man himself, Mr. Robert Seger, has on his own career. In an interview with Rolling Stone earlier this year Seger said, "My career's winding down. What can I say? I can't do this much longer. My manager is 70. We've been together for 45 years now and we need to stop pretty soon and turn it over to the Kid Rocks and Eminems. I guess we're in the final stages here. When I got offstage the other night I said to my security guy, "That was surreal. I can't believe I just did a full-on rock show." It's just surreal."
Not quite as surreal as seeing a cover band of you, Bob, but I think I get what you're saying. Here's hoping the The Silver Bullet Band isn't hung up too soon. There are more of us out here who still love you than you know, Mr. Seger. After all, Rock 'n' Roll Never Forgets.
Happy Halloween, y'all.