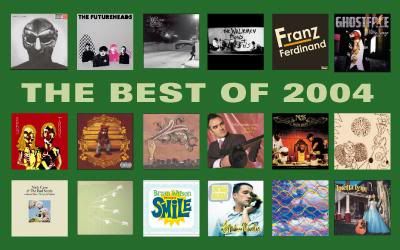 This past weekend was Record Store Day 2012. All over the country independent record retailers had exclusive 7" vinyls and limited edition re-releases that left audiophiles mouths watering. I looked over the seemingly limitless options (Dr. John's Locked Down, Alabama Shakes Third Man Live Series,etc.) and felt a surge of excitement. But it still paled in comparison to the staggering string of sensational record releases eight years ago.
2004 was a monumental year for my philosophic sonic development. Not only was I turning 20 (my raging hormones and youthful rebelliousness at their peak) but there was also something of a musical zeitgeist occurring. Pop music was still reeling from the boy band/ teen tramp holocaust that was Justin & Britney. Facebook wasn't yet ubiquitous. Bush was heading towards a 2nd term (causing many of us to research expatriation to Canada). We were all thirsty for emotional authenticity in the wake of a post 9/11 world turned upside down.
It was against this back drop that seasoned artists like Wilco and Modest Mouse made ambitious journeys into the "mainstream" and unknown upstarts like Joanna Newsom, Arcade Fire, Regina Spektor, Kanye West, and The Killers exploded onto the scene with mind blowing debuts. Most of the releases in 2004 would prove to be bold and unique, expressing the frustration and fear of the day through a prism of love and longing. It was rock music that challenged us to reexamine ourselves. Albums that surprised us with their cohesiveness. Music that dared us to dance and sing with unabashed abandon and a courage that we the audience (and they the artists) would never quite find again.
So without further ado, here are some of the lyrical gems of 2004. The lines that really f'd up my life... in a good way.
"Language is the liquid that we're all dissolved in, great for solving problems after it creates a problem..."
"Since there's no one else around, we let out hair grow long and forget all we used to know..."
"I know I won't be leaving here with you..."
"And all that I want and all that I need and all that I got is scattered like seed and all that I knew is moving away from me and all that I know is blowing like tumbleweeds..."
"I'm going away where you can't look for me. Where I'm bound you cannot come. No one is ever gonna take my life from me. I lay it down, a ghost is born..."
"I'd sacrifice money and heaven all for love. Let me be loved, let me be loved..."
"We livin' the American Dream. The people highest up got the lowest self esteem, the prettiest people do the ugliest things..."
"No one will notice we're gone cause we don't have a job to keep. They'll just say that we're being lazy. Sex crazed, sex crazed, crazy..."
"Wrap me in your marrow, stuff me in your bones, to sing a mending moan, a song bring you home..."
"I've got soul but I'm not a soldier..."