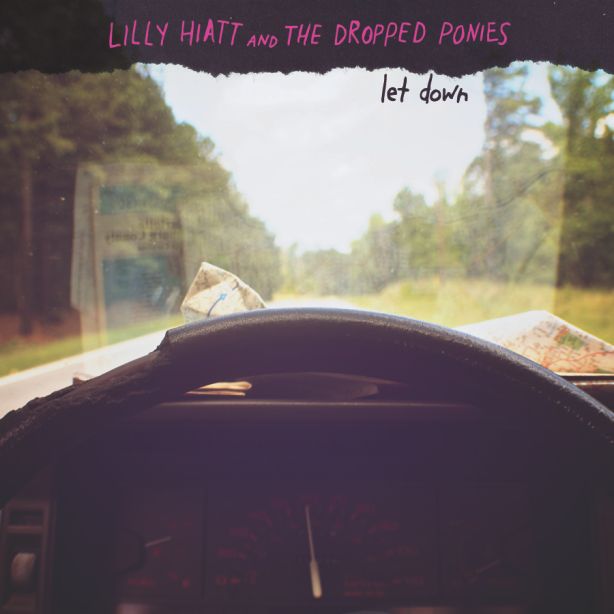 On October 23rd Lilly Hiatt & The Dropped Ponies released their debut record,
Let Down
. Lilly is a child of Nashville through and through and it shows on this impressive collection of country tinged rock n roll. Produced by Doug Lancio (whose work with Jeff Finlin and Patty Griffin is easy on the ears to say the least) this ten song collection is Hiatt's first effort with her Dropped Ponies. She formed the group three years ago with guitarist Beth Finney, honing songwriting chops and crafting a collection that is more polished and mature than most debuts. I was lucky enough to have a few moments of Lilly's time as she geared up for the release to talk a bit about
Let Down
, forming the Ponies, and how heartbreak and hangovers can be a songwriter's best friend. "I was newly single. Partying real hard and getting fucked up," Hiatt recalls her band's humble origins, "I went to a party at this guy's cabin and a girl shows up with a guitar, orange crush, and vodka and says 'Let's Drink.' I got her number and courted her." That's how Hiatt met guitarist Beth Finney, whose work on Let Down is exemplary. "Beth was the first person to hear my stuff and not take it to a twangy place. In terms of sound, I knew I wanted a little edge, I didn't want to be just another Americana band." Finney's range as a guitarist is broad. Often mellow, sometimes fuzzed out and crunched, but always assertive, dovetailing with Hiatt's verses to make a cohesive sound. "People Don't Change" and "Angry Momma" are perfect examples. The melancholy of Hiatt's words are supported by a subtle solo in the former and a sharp gut buster in later. Both stick with you long after the tracks end. "Beth's guitar conveys a lot of emotion and we met at that weird spot when hangovers stop being funny and things start getting sad." Filled out by Jon Radford on drums and Jake Bradley on bass, the Dropped Ponies are a tight band, maintaining a coherent sound while experimenting with many different styles. "A band helps you solidify structure," Hiatt explains, "It opens up more possibility for your sound. They make it rowdier." Perhaps the most traditional track on the record is "Knew You Were Coming". A slow, somber ballad with a beautiful, spacey Lanoisesque guitar part is the strongest on the record. Lilly sings as sweet as Emmylou but with the dark lyrical cleverness of John Prine.
I thought about touring and I thought about school,
I thought about drowning in the swimming pool. It's a song about the march of time and a lineage of women in their various emotional stages. "I remember writing it and thinking it was nothing. I had just had a shitty summer and I felt so vulnerable cause it was so straightforward." It's a testament to Hiatt's songwriting skills that such a tender track is followed up by the barn burning album closer, "Big Bad Wolf". The wry humor that makes the inward reflection of "Knew You Were Coming" so poignant is the same trait that makes "Big Bad Wolf" and its barbs so blistering.
I never really thought you were my better half, More just something fiery sneaking up my calf.
At first I was the host, the perfect southern belle, Now every single part of that is shot to hell. Hiatt isn't a punching bag. She has taken her licks but is quite capable of dishing them out as well. "Guys drive me fucking crazy. I was pissed off and blurted that song out. I took it to Beth and she immediately brought it right to that level." Whether born out of anger or love, Hiatt's songs consistently hit the mark. "I've always been a weirdo with compassion," Hiatt explains, "People are exciting and I'm fascinated by them. But I'm a bit of a loner." This dichotomy provides a tension throughout Hiatt's songwriting. Lonesome observation of the sadder aspects of life mixed with a stalwart resolve to brush off and move on. "Morality is substantial to me. It's what all things come down to. The right amount of hopeful and the right amount of solitude." Lilly Hiatt & The Dropped Ponies debut album
Let Down
is available now from Normal Town records.