1994 was a monumental year for American music. It saw a sea change in rock and hip hop with the release of such albums as Green Day's
Dookie
, Weezer's
"Blue Album"
, Beastie Boys'
Ill Communication
, and Warren G's
Regulate…G-Funk Era
. It was also the year that Kurt Cobain shot himself, Left Eye burned her boyfriend's house down, and The Beatles and Led Zeppelin saw at least partial reunions. In the midst of this musical tempest, an unlikely pop artist would decide to branch out, making one of the most dramatic stylistic shifts one could imagine and releasing a record that was a near perfect synthesis of the grunge, rap, punk, and funk that was surrounding him. That album was
SHE
. The artist was Harry Connick, Jr.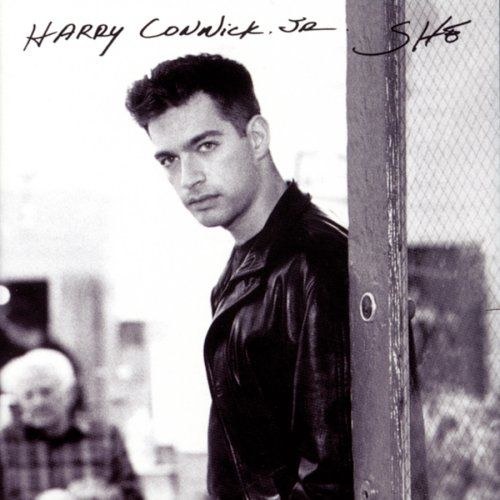 If you're still reading this then we must be really good friends. Most people that I try and talk to about this album walk away from me before I can get the "Junior" out. I know what you're all thinking… "That Frank Sinatra wannabe who married a supermodel?" Yup. That guy. "The mother f'r who had all those ABC Christmas Specials?" Yeah. That mother f'r. "The guy who murdered that chick in the bathroom stall in
Copycat
?" Yes. But he also kissed on Sandra Bullock in
Hope Floats
, so cut him so slack, ok? By 1994, Connick was 27 years old and had been releasing records for the better part of his life. His first two records, produced in the late 70's when he was just a boy, were Dixieland throwbacks. Him and a group of veteran New Orleans musicians releasing standards, banking on the fact that folks would be impressed by the fact that the piano impresario at center stage was only 10 years old. This may sound like a gimmick but I encourage you to look up Stevie Wonder's first few records and see how he was marketed at age 12 before becoming the genius that we love today. Once Connick hit puberty, he only slightly modified his musical style, now he played Sinatra era big band hits; crooning out numbers that seemed formulaic but nonetheless interesting in the anthro-musicology sense. He won over a large audience with the release of 1989's soundtrack to
When Harry Met Sally…
, Connick introducing a whole new generation to standards originally made famous by the likes of Ella Fitzgerald and Louie Armstrong. His musical chops were not in question, but how original, how lyrical, how stylistically talented was this guy if all he was doing was rehashing the past? Fast forward five years... by this time Harry Connick, Jr. has begun a successful film career that will prove to be as cofounding and risky as his recording career. He has married a Victoria Secret supermodel (further infuriating a section of America who hates his good ole boy image) and now he will embark upon a 3 year musical foray that will alienate even his most ardent fans.
SHE
was released in July of 1994. It's a little over an hour of some very strange, very smooth New Orleans funk music, interspersed amongst it's eleven tracks (each an average of five minutes in length) are brief, grungy experimental spoken word narratives that are borderline industrial- hip hop music. Connick was backed in this effort by an all- star group of New Orleans funk legends, including most of The Meters. His touring guitarist, Jonathan Dubose, sets fire to several tracks with explosive solos on "Between Us", "Safety's Just Danger…", and an ode to Connick's mentor James Booker entitled, simply, "Booker". Connick's piano playing is never better, the most prominent feature of songs like "Trouble" and "To Love The Language". The album's centerpiece is a slow, sultry seven minute jam called "Joe Slam and The Spaceship", drenched in organ and heavy bass. The songs range from second-line ready parade jams to dark, brooding, and distorted funk ballads. Some sexy love jams are included but the eclectic eccentricity of the album cannot be overstated. Anyone who loves The Neville Brothers, The Meters, and Professor Longhair will probably eat this album up. But in 1994, Connick's fans were wealthy retired white folks who wanted to hear Sinatra redux and when he came to town with 12 burly, black funk musicians and pumped up the volume, they didn't react kindly. Connick's
SHE
tour was notorious for walk outs, many of his audience simply disturbed by the lack of swinging dance numbers. In a 1996 interview with AP, Connick addressed the controversy, "I don't like to upset anybody. I did my best to inform everybody that I was going to be changing musical styles, but not everybody got the message and some people were misled" Connick was earnest as ever but also stuck to his musical guns, at least for the moment. "It wasn't World War III. It was just a change in musical styles." Set side by side with the other hits of the day, the album seems an odd anomaly; perhaps Connick's desperate effort to ingratiate himself upon an audience more apt to wait in line for the newest Alice in Chains or Dr. Dre album. But now, almost 20 years later, the album can be seen as a talented and multifaceted artist trying to embrace a beloved musical form and realizing that his audience won't always (to borrow one of the album's song titles) "Follow the Music Further". Connick would release one more experimental funk album in 1996,
Star Turtle
, before succumbing to studio pressure to return to form and churn out big band hits. Harry Connick Jr.'s career, on screen and in the studio, is a fascinating one; an old fashioned kind of performer living in a modern age where catering to niche markets will fare better than playing a broad range of styles. He's a guy who can star in films as an alien hunting playboy, a charming romantic lead, or a brutal serial murderer and not bat an eyelash. He can release retro-jazz albums that play well to the masses or unleash complicated heavy funk to folks who could care less. He has a reputation as a perpetual boy next door… a Wonder Bread brother trying to mix it up with
real
NOLA boys… but he is beloved in his hometown and he was taught by James Booker and Ellis Marsalis. He's got the cred and he's got the chops. It's just that pesky audience acceptance that eluded him.