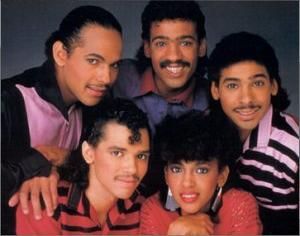 The other day I was making a mixtape for a girl I dig. Yes, I'm 30 years old and I'll still make a shawty a mixtape. What of it?! Anyhow, I was choosing some cuts; an old Janet track from 1989's
Rhythm Nation
, a little "Into the Groove", etcetera. Somewhere along the line though, I found myself searching for a tune that got a little more specific. I thought to myself,
I really dig this girl's sense of style. I wish there was a song that mentioned that. Oh, and her hair is so curly and wild! Is there a jam that calls that out? She's such a sweetheart, doing cool little things for me. There can't possibly be a song that fits that in there too.
In fact, Thunderbirds, there is such a jam. "I Like It", the 1982 hit by Motown family band, DeBarge. DeBarge consisted of sister Bunny and her brothers Mark, Randy, James, and El. El was the main singer and songwriter, his signature falsetto helping to score some much needed hits for the Motown label during an era when they were on the decline. "I Like It" was the lead single from DeBarge's sophomore album
All This Love
and it's a spectacularly smooth jam. Opening with a killer bass line by "Ready" Freddie Washington (this is the dude who laid it down on "Forget Me Nots"/"Men In Black" so he's not f'n around) the tune has an infectiously melodic horn section and quickly settles into a groove that's both sexy and sweet. El DeBarge's vocals on the chorus are perfectly high pitched and brother Randy's verses have an effortless flow that sit over the thick rhythm section like whipped cream on dark chocolate mousse. The only thing better than the sound is the simplicity. The lyrics of "I Like It" are basically just a laundry list of all the rad things about this babe that El digs.
I like the way you comb your hair,
And I like those stylish clothes you wear, It's just those little things you do that show how much you really care. That's so bad ass! What's better than pointing out the most obvious and ordinary parts about a chick that make her so incredible? In addition to this fantastically on the nose chorus are the backing vocals by Bunny, Mark, and James; a repeating harmony that provides a foundation for El to really show off his falsetto chops.
I like it, I like it, I really, really like it.
I'm for it, Adore it, So come let me enjoy it. There is little room for confusion. I'm pretty sure he likes this chick. "I Like It" is one of those versatile smooth jams, the kind you can dance to with your lady while y'all are making dinner or the kind you put on when y'all are making out. Or both. Simultaneously. Just don't forget to turn the burner off before you head to the bedroom. Rookie mistake.